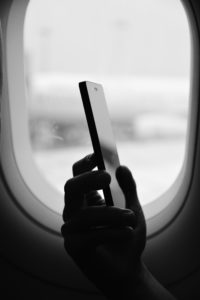 Picture this. The airplane you boarded thirty minutes ago has taken off and for the next several hours, you're strapped in firmly to your middle seat. You wait patiently until the stewardess announces over the intercom, "You may now use your approved portable electronic devices." But right as you take out your smartphone, laptop or tablet, you find out that your plane does not have Wi-Fi. It is then you realize that the next several hours are not going to be as relaxing or productive as you had originally planned.
If you can relate to this disappointing scenario in some fashion or another, do we have some good news for you. Last week, it was announced that the total number of commercial airplanes that offer inflight Wi-Fi service is expected to skyrocket over the next five years.
According to recent projections from Juniper Research, by the year 2022, nearly 15,000 planes will have the capability to connect passengers to Wi-Fi, from all the way up in the sky. Today in 2018, there are 5,243 planes that offer onboard Wi-Fi for commercial passengers.
This recent push by the commercial airline industry to ensure more planes are properly equipped to keep passengers connected, is likely attributed to the fact that Wi-Fi has evolved from a "want" to a "need" over the last several years, particularly as it pertains to the mobile workforce.
According to the findings from a recent study, that was featured by WFF last month, more than half of all mobile workers surveyed agreed that having no/poor Wi-Fi would negatively impact their ability to do their job in some capacity.
In addition, according to a 2016 report from Airlines For America, (a DC-based trade association representing the largest airlines), 31% of all flights taken in 2015 were for business purposes. Furthermore, 30% of survey participants who had ever flown before, ranked Wi-Fi availability as most important when it comes to their overall inflight experience.
Given those statistics, it's no wonder major airlines are working hard to make sure that every time you fly, the inflight Wi-Fi service is just as common a commodity as te inflight beverage service.
Visit wififorward.org to learn more about the work that we're doing to support Wi-Fi and other unlicensed spectrum-based technologies.