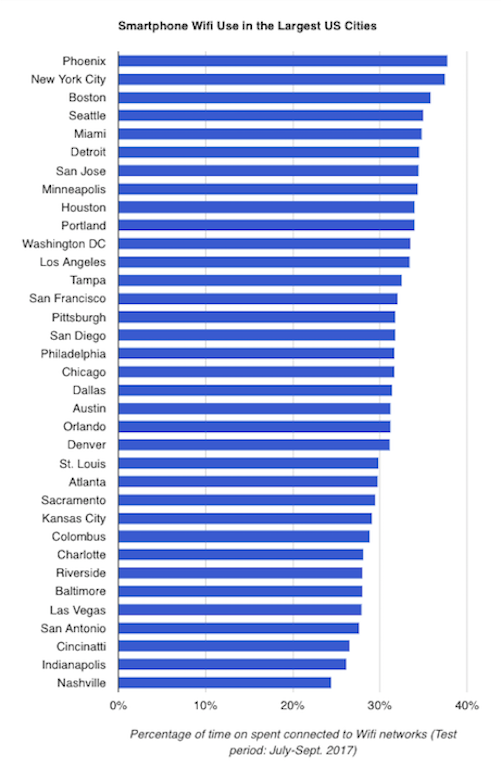 Is your hometown wild for Wi-Fi? OpenSignal just released a new report in which their analysts ranked 35 of the largest U.S. cities from most to least amount of time spent on Wi-Fi, during a select test period of July through September. Not surprisingly, some cities were found to spend more time connected to Wi-Fi than others, but why?

The report itself did not conclude that there was any one particular reason for what made consumers in one city more likely to connect to Wi-Fi than consumers in another. But we'd like to offer some ideas.
One potential theory, as to why cities like New York, NY tend to rank higher on the list, is due to the significant number of young professionals living and working within the area. In a time where everything from millennials' work life to their social life, is dependent upon their smartphone — using Wi-Fi for better connections inside buildings and connections not subject to data caps — it should come as no surprise that cities with a higher concentration of young professionals tend to spend more time using Wi-Fi than those that do not.
Separately, the report assessed an interesting trend within their findings, that Wi-Fi use in the large metros is actually lower than it is for the U.S. overall. This could likely be attributed to a variety of factors. Namely, the fact that urban areas are where cellular operators build most of their infrastructure. So folks in rural areas, where the cell infrastructure is less built out, are more dependent on Wi-Fi than similarly situated urban consumers.
And the younger demographics of many big cities may also play a significant role. In other words, millennials are far more likely to spend more time connecting to Wi-Fi from a bar, restaurant, or another public place in the city. As opposed to forty-something year olds who are far more likely to connect to Wi-Fi while they are either at the office or at home.
One could theorize that certain cities tend to spend more time connected to Wi-Fi than others for a range of different reasons. However, one thing remains absolutely clear. When the city ranked 35/35 (Nashville) in this report, still spent nearly a quarter of its time connected to Wi-Fi, it is clear that regardless of which city you live in, Wi-Fi is likely to remain an integral component of your everyday life.